Maybe you read this word for word, but if you skimmed some of these distributions,  the summary can be found on 19:51
51 These are the territories that Eleazar the priest, Joshua son of Nun and the heads of the tribal clans of Israel assigned by lot at Shiloh in the presence of the Lord at the entrance to the tent of meeting. And so they finished dividing the land.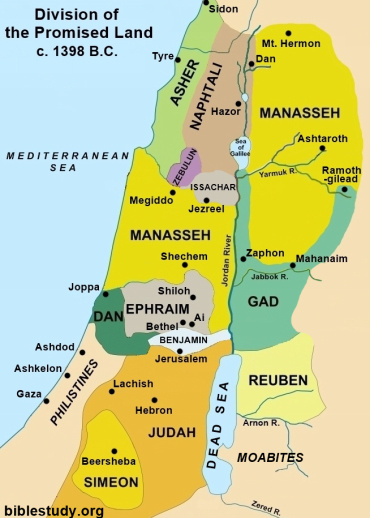 Click here for a printable copy
---
Chapter 20-Cities of Refuge.
Chapter 21- Towns for Levites
We talked about this in Numbers 35 but here is a quick recap.
They yellow dots are Levitical Towns, the red dots are the Cities of Refuge. The cities were divided 3 on each side of the Jordan River so that no Israelite would have to travel far to reach one of them.  These were safe cities so that they had protection from revenge or injustice from an accidental death.  (Today, Jesus is the High Priest that protects us from injustice at death.  He is our refuge)
– Kadesh– in Naphtali
– Shechem– in West Manasseh
– Hebron– in Judah
– Golan– in East Manasseh
– Ramoth – Gilead in Gad
– Bezer– in Rueben
The tribes also had to set aside 42 additional cities for the priests and Levites to inhabit.  In all, the Levites received 48 cities with their surrounding pasturelands, including the six cities of refuge. God arranged the distribution of the 48 Levitical towns in such a way that the Levites, whose responsibilities included the teaching and counseling of the other Israelites in the Law, were not far from anyone in Israel.
Today's read ends with:
 So the Lord gave Israel all the land he had sworn to give their ancestors, and they took possession of it and settled there. The Lord gave them rest on every side, just as he had sworn to their ancestors. Not one of their enemies withstood them; the Lord gave all their enemies into their hands.  Not one of all the Lord's good promises to Israel failed; every one was fulfilled.
---
Yesterday in comments, Crystal asked how big is the territoy.  Click here if you are interested.